I revisted the scene of my 2/2/2006 accident today
One of my friends (who is a psychologist) suggested this morning going back to the hiking location of my 2/2/2006 accident (broken bone in shoulder, torn rotators cuff, shoulder dislocation). I had some initial hesitation about going back, but I had a great time today: we climbed the mountains separating Boynton and Fay canyons. I had a difficult time getting up the mountain but the experience was very good. This picture (taken today) is near the area where I fell: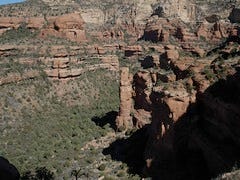 In addition to the views, we enjoyed visitng two Indian ruin sites today. I have many pictures of the Sedona area on my Flickr photo site.